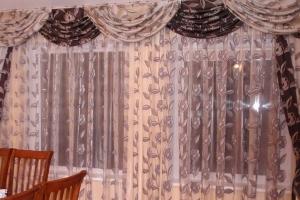 Aisvita, LLC Curtain Salon in Vilnius proposes to create a unified interior and the comfort of your home ... Since October 1996, Aisvita, LLC is engaged in this business. Specializes in decorating restaurants, cafes, hotels and private spaces.
We work directly with fabric manufacturers from Germany, England, Austria, France, Italy, Turkey and India. We sell Italian and Polish cornices and their accessories, as well we sell mechanisms for roman blinds, austrian blinds, for screen curtains. Also we can offer a wide range of mechanism for complicated windows.
In our shops you can find wide range of ready made pillows, tablecloths from India, ready made bedcovers and curtains. If you will not be able to find what you need in our shops, just tell us what you like and we will deliver it from our suppliers in a short period of time.
You want household harmony, or maybe you like to shock, or the alignment is not what it seems - our designers will help to solve it all. From the project data to the final order of implementation. High-quality materials and ideas that do not restrict you to a whole surprise. Designed curtains for you - will fulfill your home with more comfort and cosiness.
In shops we sell over 300 types of curtains and also offer a wide range of intermediate curtains.
Rely on professionals!
Screen Curtains
Screen curtains came from Japan, they are particularly suitable for minimalistic style of interior. These are the fabric pieces, horizontally movable aluminum mechanism. Sewn from a variety of materials, slides beautifuly, with the other fabric fragments, the cross wires. This is a great tool to cover the large panoramic windows, you have a convenient window into the center of the field or on the terrace. Currently, it is the most popular means of decorating the windows, which became popular between even the greatest skeptics.

Austrian blinds
This is especially luxurious and splendid curtain type, it is somewhat similar to the roman, but austrian blinds top up with the big-wave gloom. They can also be mixed with day curtains as well as night, or perhaps both mixed with some applications taken from the silk material, such as flowers. These curtains will fit with natural silk, organza fabrics, non-traditionaly standing taft.

Roman blinds
This is often referred to as Roman blinds. Its special mechanism helps to blend or gather on top of the window area, or just blends in window niche. These curtains can be sewn from thin fabrics as organza, transparent fabrics, thick and even very thick fabrics like tapestry. Sewn to the lining, and without it. Roman blinds may be carried out as the shade option, only then they should be coordinated with the day curtains. The method of attachment allows the adaptation of the roman blind to a variety of windows.

Classical curtains
Everyone dreams of a comfortable and stylish home in which aesthetics and harmony prevails. Curtains are essential for us and it only makes our home warm and comfortable.
Day time curtains sewn from lightweight, bright, matt and transparent fabrics. They can be short or long, up to the floor, or even lying on it. If the lights or a close neighbor is not the problem than day curtains will be enough, if not there might be a need for a darker night material, there are plenty of different colours and designs, but if this is not enough than blackout material will solve it all, it is possible to sew it with any dark night material.
There are also intermediate curtains which mounted one. They are usually sewn from denser but less-transparent fabrics, they must be relatively light and bright, that the window could be slightly covered. Where and how to hang?
Day and night curtains are hanged on the cornices. They are wooden, metal, affixed to the wall, as well as plastic, metal is affixed to the ceiling. It is important that the molding decoration piece must be matched not only to the curtains but also tothe room interior.
Curtains can be decorated with stamped metal rings. Curtains will fall with beautiful large waves.
Screens, autrian blinds, roman blinds can be mounted to the ceiling, window niche with special holders. Cornices are imported from Spain, Italy, Poland and Germany. Screens, romand blind, austrian blind mechanisms imported from Italy. For customer's request we install and hang all the other systems for curtains. We guarantee the quality of work!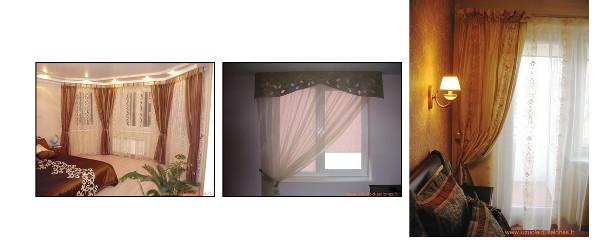 Tablecloths, bedcovers, pillows, ready-made curtains
We sell various finished tablecloths, pillows, curtains, bedcovers. These products are of various sizes, color and patterns. If you can not find suitable pillows, tablecloths, bedspreads or ready made curtains , we can sew one from the material and appropriate model chosen.
Read more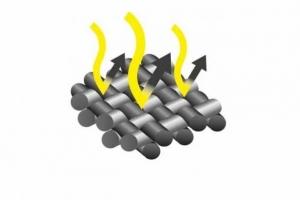 In 2010–2012 JSC "Pakaita" participated in the project "Protective Responsive Outer Shell for People in Industrial Environments" (PROSPIE). The partners of this project: Netherlands, Belgium, Denmark, Italy, Switzerland, United Kingdom, Germany, Lithuania.
In the Prospie-project a new generation of personal protective equipment (PPE) was developed and produced. The special feature of the PPE is a dynamic cooling system that prevents the worker to become hyperthermic. Although sweat evaporation is an excellent cooling mechanism for work in the heat, this system is compromised when working in protective clothing. The body temperature rises and consequently the vigilance and task performance decrease. Eventually the worker has to abandon his task due to incompensable heat strain.
Prospie aims to supply the worker with personal protective equipment that enables him or her to work longer in protective clothing with less discomfort. Innovative cooling methods, like forced ventilation, phase change materials and encapsulated endothermic salts, is integrated with protective clothing. Sensors in the suit measure relevant physiological data, such as skin temperature, heat flux and heart rate, to assess the thermal status of the worker, and the environmental conditions (temperature, relative humidity). The physiological signals are used in an algorithm that generates a warning signal when a certain safety threshold is surpassed. Data also is transferred to industrial safety systems in order to alert rescue workers if needed. The operational benefit of prototypes of the suit is determined in a controlled setting as well as in the industry where protective suits are indispensable.
The results is disseminated to standardization organizations, the industry and public procurement organizations. A training program will be made that focuses on the acceptability of the system by SME's and end-users.
Although the system aims to contain the newest technology, human factors and practical usability including for instance ease of cleaning are leading in the design of the prototypes.
About JSC "Pakaita"
JSC "Pakaita" was founded in 1945 in Kaunas. Company specializes in production:
● of tricot fabrics with capacity of 60 tons per month,
● tricot garments with capacity of 20000 psc. per month,
● drapery, curtains, bedspreads,
● sewing and knitting services.
Products/services:
Tricot fabrics for: sports, light outdoor clothes and underwear, fabrics for lining, pockets, flags
Technical tricot fabrics: materials for passenger seats, upholstery, mattresses, footwear, lining
Development of knitted/tricot fabrics. Company could help to develop new material according ideas and needs of the client. Knitted fabrics are produced from various type of yarns, such as: polyester (Trevira-dry fit), polyamide (Meryl®, Tactel ®, Supplex®), elastic (Lycra®,elaspan®), viscose, modal, viscose-Supersoft, Siro, comfortjet air jet cotton and their blends.
Tricot garments.
Styling execution: development of collection and collection presentation according ideas and needs of the client.
Technical creation: basic patterns for samples, samples making, grading and puzzling for production (GERBER technology programming equipment), technological documentation for samples and production.
Business partners: Company's production is sold in domestic market and exported to Latvia, Estonia, Sweden, Denmark, Netherlands, Germany, Finland, Russia and Belarus
Strengths of the company: company offers short production time, small quantity orders, high quality.
Business interests: looking for wholesalers, retailers and customers on CMT base.
Read more