Construction of houses pre-fabricated in plants has been the most popular house-building technology in the world for several decades. For example, in US 90% of houses have been built on the basis of wooden frameworks. In Sweden 80% of all houses have been made of wood and in Scotland - 48%. These numbers are constantly increasing in other countries too. This building method is considered to be economical, environment-friendly and requires low maintenance costs. Modern architectural tendencies, new building materials and the latest technologies provide more and more possibilities for production of panel houses.
European countries started developing production of panel houses 50 years ago. In Germany, Norway, Sweden and some other countries the majority of residents live in panel houses. Therefore panel houses are sometimes referred to as houses of the 21st century.
During recent decades the production technology of such houses has improved considerably due to the fact that modern equipment and building materials have been introduced. Modern panel houses not only stand their ground if compared to brick houses and timber houses, but have even surpassed them.
A panel house is constructed of panels which are made as follows: OSB boards are nailed to a wooden frame on the outside and on the inside. The inside of such a panel is then filled with stone wool and this allows to achieve the required thermal resistance. Such construction of buildings guarantees stable characteristics of thermal resistance during any season of the year. Houses built in accordance with such technologies are environmentally-friendly, they have good heat and energy saving characteristics and they are suited for living in them permanently.
Why a panel house is a good choice?
QUALITY
Automated production - ensuring high precision of products
Standard units - guarantee the absence of frost bridges
Production is fully controlled
Specially trained personnel works in the production process
SPEED
House assembly takes 3 to 5 days.
Contact us only once and specialists of UAB Kriaute will produce and assemble a house under a typical or individual project. Ready-made panels of up to 12 m length help to save time on the construction site.
House- assembly work can be done all year round
GUARANTEES
Only certified materials are used for production of houses
Post-guarantee service is provided
PRICE
Short assembly time - workforce to be hired for a shorter time
Light- weight building elements - simpler foundations
Pre-fabricated elements of a house are delivered to the construction site in due time - you do not have to take measures of precaution against theft.
INDIVIDUAL DESIGNING
KRIAUTE, LLC company's designers use a special computer program for preparing the structural drawings of a house. With the help of our designer a client himself can design a dream house, or he can choose an already available typical project. You are welcome to have a cup of coffee or tea and to see a sample house built by our company.
HOUSE CONSTRUCTION
Separating walls and separating floors
One of the most important requirements for separating walls and separating floors is their acoustic properties (i.e. airborne sound insulation). The typical assemblies of separating walls and separating floors used by our company allow us to comply with the sound insulation standards. Inside separating bearing walls achieve the value of at least 52 db, whereas inside separating non-bearing walls achieve the value of at least 36 db.
Outside walls and roof panels
One of the most important requirements for outside walls and roof panels is thermal insulation. Proper assembly of panels allows us to achieve in these structures the maximum thermal resistance which complies with the current requirements. The outside walls achieve the thermal resistance value of 5 sq. m K/W and the roof - the value of 6 sq. m K/W.
STANDARD STRUCTURE OF TIMBER-FRAME PANEL HOUSES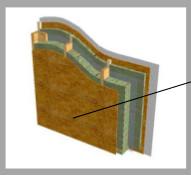 EXTERNAL WALLS
Wooden outside boards, clinker bricks, thermoinsulating panel
OSB board 12 mm
Wooden frames 45 x 145 mm
Thermal insulation 150 mm
Steam insulation
Wooden square beams 45 x 45 mm
Thermal insulation 50 mm
OSB board 12 mm
Plaster board 12.5 mm
Heat transfer coefficient 0.2 W/m2K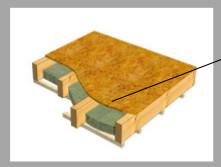 CEILING
OSB board with tongue 22 mm
Wooden frames 60 / 45 x 220/ 200 mm
Sound insulation 100 mm
Wooden square beams 45 x 45 mm
Plaster board 12.5 mm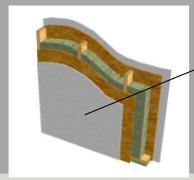 INTERIOR LOAD-BEARING WALLS / PARTITIONS
Plaster board 12.5 mm
OSB board 12 mm
Wooden frames 45 x 145/ 95/ 75/45 mm
Sound insulation 150/100/70/50 mm
OSB board 12 mm
Plaster board 12.5 mm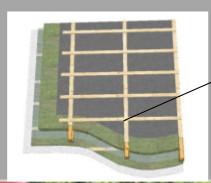 ROOFPANELS
Wooden square beams 45 x 45 mm
Wooden square beams 25 x 45 mm
Diffuse film
Rafter 60/ 45 x 195 /220 mm
Thermal insulation 2 x 100 / 3 x 75 mm
Steam insulation
Wooden square beams 45 x 45 mm
Thermal insulation 50 mm
Plaster board 12.5 mm
Heat transfer coefficient 0.2 / 0.18 W/m2K

PRODUCTION PROCESS
Our panel house production plant was launched in the second quarter of 2007. The manufacturing floor space is 10 000 m2, this includes space used for both - manufacturing and storage purposes.

Panel houses are produced by highly qualified specialists.
The estimated production yield is 300 average size residential houses per year.
The basic elements of a panel house such as outside and inside walls, ceiling and roof (except roof covering, which is to be chosen by a client) are made indoors in accordance with drawings. Every house element passes quality control in the production-shop. This is how high quality of products is achieved in our company. The bearing structure of a panel house consists of wooden elements. Highest-quality wood with 15 % moisture content is used for production of panel house elements. Dried wood does not shrink or turn. This is an environmentally friendly material which makes your home cosy and comfortable.
KRIAUTE, LLC cooperates with architects and designers. Our engineers can adjust the equipment to comply with the requirements of the project. Production takes place indoors; therefore, the impact of atmosphere is avoided.

In the course of production process we focus our attention on technical solutions ensuring high quality of products.
Specially-trained highly-skilled employees work in the production area.
Pre-fabricated elements are made by using computerized equipment, therefore the human impact on precision and quality of the final product is reduced.
To private individuals and entities the KRIAUTE, LLC offers building warm, economic and safe houses. Modern Swedish-make equipment, qualified staff and use of certified materials warrant high product quality and prompt delivery.