KRIAUTE LLC was founded in 1987, in Lithuania. We have 10000m2 of manufacturing space, where we produce timber frame house panels, wooden windows and doors, structural and planed wood, different kinds of joinery products, garden houses and outdoor furniture.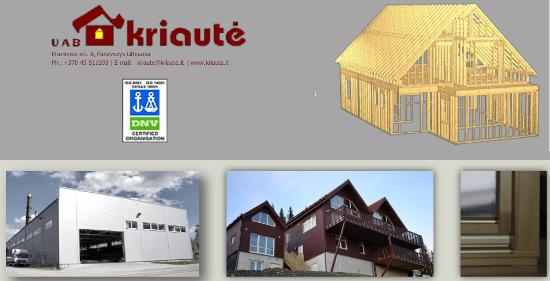 TIMBER FRAME HOUSES
Timber-frame element houses production plant was launched in 2007. It is one of the most modern plants of this kind in the Baltic States. Modern production line equipment obtained from Sweden. The estimated production yield is 1000 sq. m. of living area per month.

QUALITY CONTROL
KRIAUTE LLC implemented ISO 9001:2008, ISO 14001:2004, OHSAS 18001:2007 management system standards.
The main quality control principles are:
• the house elements are made indoors
• pre-fabricated elements are made by using computerized equipment, therefore the human impact on precision and quality of the final product is reduced
• every house element passes quality control in the production-shop
• only specially-trained highly-skilled employees work in the production area
• in the course of production process we focus our attention on technical solutions ensuring high quality of products
• only highest-quality, certified wood with 15 % moisture content is used for production of elements.

BUILT PROJECTS
SHOW HOUSE. Houses built in Norway, Lithuania, Ireland, France, Sweden, Denmark, Belgium
Quality control system, highly-qualified personnel and the use of certified building materials guarantee rapid production process and high quality of the products. Our company cherishes its reputation. We carefully meet our commitments and seek to remain a reliable partner. We offer warm, economical and safe houses to private clients and companies